The Fall 2020 Issue of FORUM Now Available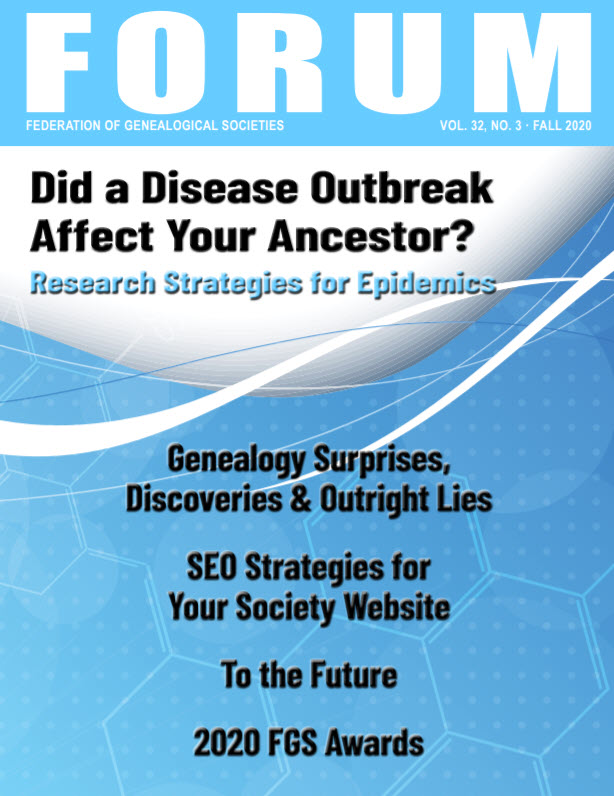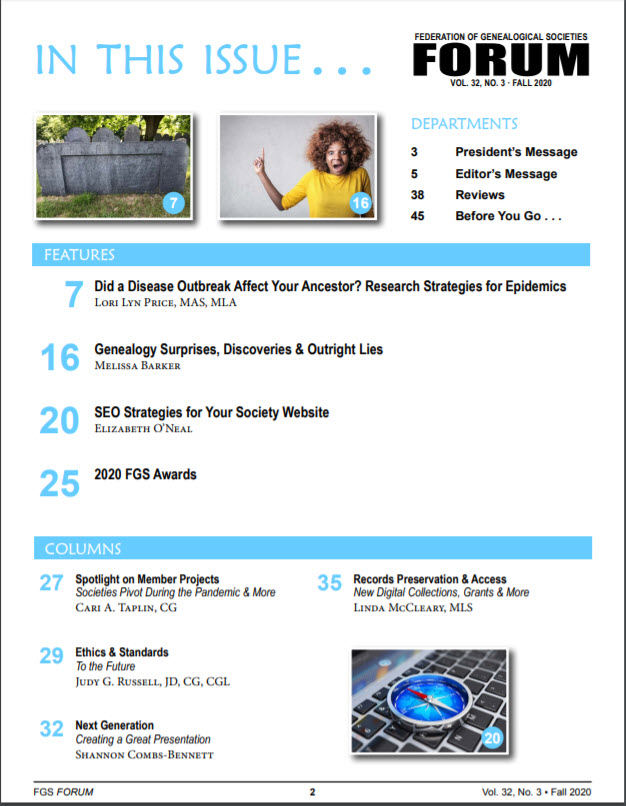 The Fall 2020 Issue of FORUM is now available. Log in to your FGS account to access the magazine. Here's a look at what is inside. 
In "Did a Disease Outbreak Affect Your Ancestor?" Lori Lyn Price, MAS, MLS, explains how an outbreak of disease can affect the lives of our ancestors and how we can locate records to help tell their story.
"Genealogy Surprises, Discoveries & Outright Lies" by Melissa Barker shares how researching our families may lead to unexpected findings as we strive to search for the truth.
Are you trying to get more traffic to your society's website? "SEO Strategies for Your Society Website" by Elizabeth O'Neal explains what SEO is, why it matters, and how to use it to help people find you.
"FGS 2020 Awards" provides a glimpse into the FGS awards presented during FGS LIVE! on September 2, 2020.
Also, in this issue:
Spotlight on Member Projects: "Societies Pivot During the Pandemic & More" by Cari A. Taplin, CG
Ethics & Standards: "To the Future " by Judy G. Russell, JD, CG, CGL
Next Generation: "Creating a Great Presentation" by Shannon Combs-Bennett, MSc, QG, PLCGS
Records Preservation & Access: "New Digital Collections, Grants & More" by Linda McCleary, MLS
Reviews
Before You Go . . .
Contact info@fgs.org if you have any questions.