Because of the scheduled merger of FGS and NGS in October 2020, individual subscriptions to FORUM are no longer being accepted. FGS will publish the last issue of FORUM in September 2020.
The Federation of Genealogical Societies publishes FORUM, a quarterly interactive electronic magazine providing current information essential to the informed genealogist.
Society leaders and delegates of FGS member organizations have access to the magazine as part of their member benefits. 
Features include:
Articles on a variety of subjects of interest to all genealogists
Regular columns:

Ethics & Standards by Judy G. Russell, JD, CG, CGL
Forensic Genealogy by Helen Haldeman Daglas
Beyond Boxes & Binders by Linda Coffin
Records Preservation and Access by Linda McCleary
Next Generation by Shannon Combs-Bennett

Reviews covering a wide variety of publications and products by various reviewers
Inbox (similar to letters to the editor in other publications)
Help Desk (the place to ask questions)
Articles and tips for more effective society management
And much, much more!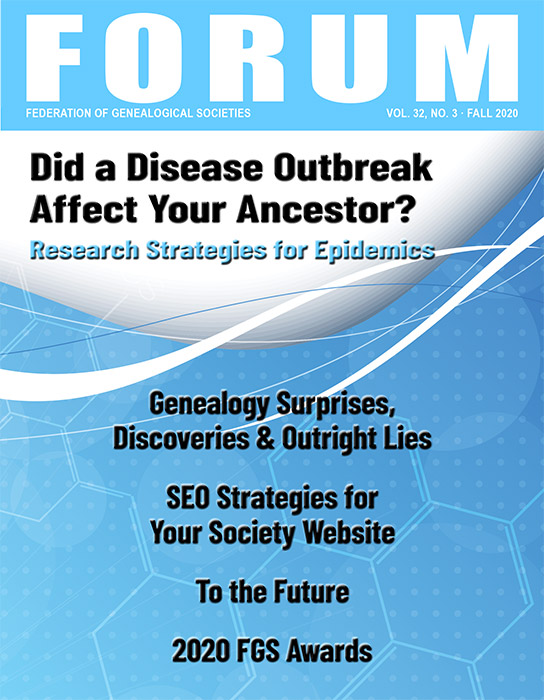 FORUM subscribers should go to the Access FORUM Subscription page to download the magazine.
Member society leaders should go to the FORUM Archives under Members Only to download the magazine.
Users must be signed in first. 
Curious about FORUM? Download a free issue: Vol 28, No. 2, Summer 2016 (published June 2016).
FORUM welcomes article submissions from the genealogical community.
The publications dates and deadlines for content submissions are:
Publication Date: 15 MAR
Content Deadline: 15 JAN
Submissions can be sent to FORUM Managing Editor Julie Tarr at forumeditor@fgs.org. Please review our writer's guidelines.
See Advertise in FORUM for details about advertising opportunities.
If you have a publication or product for review contact FORUM Managing Editor Julie Tarr at forumeditor@fgs.org.
Please contact the managing editor with any additional questions. Thank you for your interest!